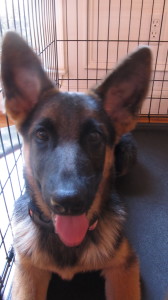 We have started a facebook page to keep everyone who is interested, informed about the process of providing our son with a Service Dog.  You can follow us here for all the happenings on the Farm, in the Soap Shop and regarding Emma as well.
As an update to what is going on, we have set up a DONATION button on the facebook page and here on the blog. 100% of any funds donated will be applied to training Emma especially for Donny's needs.  The other fund raising sites are great but take a percentage of what is given and we felt trying this way first was the best option.  People are so generous and we want to be able to put their generosity to the best use and paying a percentage to a website just didn't seen right.  We hope the donate button is easy to find and everyone who is wanting to help will find this an easy way to do so.
Emma is being trained in Alabaster, Alabama by a wonderful trainer, Lauren from Lauren Hood's World of Dogs.  Emma is spending some weeks with Lauren with visits home and some weeks with us with visits from Lauren for training.  According to Lauren, Emma is an extremely high caliber dog with phenomenal potential.  This fact just blows me away and can only be from God.  You see, we hadn't planned to do this… this is an expensive endeavor and well, we don't have extra money with all of Donny's medical bills, therapy bills and such.  We never would have pursued this on our own but God obviously felt otherwise as He literally placed Emma here for Donny.
Have you heard the story?  It is really awesome.  A wonderful family that have caught the Nigerian Dwarf Dairy Goat bug and purchased their foundation herd from us, also raises German Shepherds.  No big deal, huh?  I didn't think so until I mentioned a Seizure Dog for an acquaintance's daughter when our friends stopped by one day.  Out of no where, we were offered a puppy… (and a specific puppy who is now named Emma).  Well, I didn't jump on it since I really didn't like German Shepherds nor did I want a puppy and I had no idea what training a Service Dog would entail.  After numerous phone calls across the country, I found a trainer less then 30 minutes from our home and she agreed to take a look at the pup but told me that it takes her over 150 dogs to find 1 she would train as a Therapy Dog, let alone a Service Dog.  I had no expectations but felt since the puppy was offered to us, we needed to at least have her looked at.  And so, the story began…. amazingly and unexpectedly, the little German Shepherd we never intended on getting, some how was placed here just for Donny because she passed her interview with the trainer, Lauren said she LOVED her and we all were shocked.  I think Lauren was the most shocked.  WOW.
So now the adventure begins, we are trusting that God placed Emma in our home for a very special reason, to improve our disabled son's quality of life and our entire family's quality of life as a result.  Training for this type of Service is very expensive, insurance doesn't help and there are really very few agencies that train a dog for this type of purpose and the ones that do cost around $12,000- plus transport for the dog and transport/lodging for the trainer to come train the family.  Having Emma local under Lauren's guidance, is really an ideal option since she can bond with all of us, get to know Donny and spend time in intense training and time with the family.  It also helps with cost as we are not having to transport Emma anywhere and we are not having to pay to have the trainer fly to us and stay for weeks to train us how to handle the dog.  Lauren is working with us and understands our situation.  She is putting an enormous amount of time into Emma but is not charging even close to what would be reasonable.  We are able to make payments as funding is available, so in every way, the doors have been opened.  We are trusting that through the prayers and generous donations of friends, family  and our own fund raising efforts, this will all fall into place very quickly.
We are so thankful for all the of friends and family who have  prayed for Donny and offered whatever support they could over the years.    We so appreciate your friendship as we have traveled this hard road.  We have been so touched by the the gifts already coming in, thank you.  Donny thanks you.  What an incredible blessing it will be to have the  help of a Service Dog to help keep Donny safe.  Those who are close enough know the stress that comes with having an older child in the house that does not understand danger.  We appreciate your help to improve our entire family's quality of life, a gift of any amount will help.