After several hawk attacks and swooping owls, as well as knowing that wolves and coyotes have been spotted in our area, we decided to look into getting a Livestock Guardian Dog. Our first was Zoe, a female purebred Anatolian Shepherd who did a wonderful job with the goats. She loved her human family too, but didn't like strangers.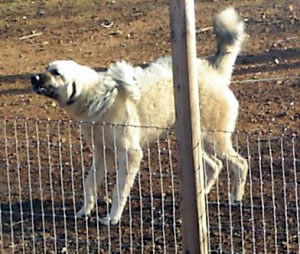 Since Zoe came to live with us, we haven't had anything or anyone try to enter the goat area uninvited….winged, four legged or two legged!  She was a wonderful midwife and babysitter too, although she didn't like to give the babies back to their dams!  Unfortunately, Zoe developed the rare autoimmune disease, Masticatory Muscle Myositis (MMM Disease).  We lost Zoe in early 2013.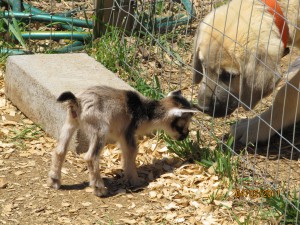 Rocco, also purebred Anatolian Shepherd, was our second addition.  He is a friendlier dog to humans then Zoe was, but, still is superb at scaring off anything that might try to harm them.   He has proved to be a wonderful midwife as well. When Rocco was a yearling puppy, one of our does delivered a bit earlier then expected and when we went to see what all the insistent barking was about, we found triplet doelings all huddled under Rocco. He was standing watch until we answered his call, now that is an awesome dog!